Oferta SPA w Hotelu Rusałka
Health and Beauty Studio at Hotel Spa & Wellnes "Rusałka"
We regenerate its forces, a loose body and refresh your mind. In a relaxed atmosphere, offer you treatments best for your body and spirit.
Cosmetics we use are high in the good offered by nature. They do not contain artificial ingredients and are characterized by very high quality. These preparations are based on the latest technology and medicine. They eliminated the harmful effects of modern civilization and the securing of the high possibility of bringing the best results for the body.
About how you feel and appearance will ensure a pleasant and competent team of beauticians, masseurs, manicurzystek.
Enjoy a feast for body and spirit.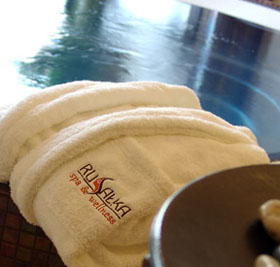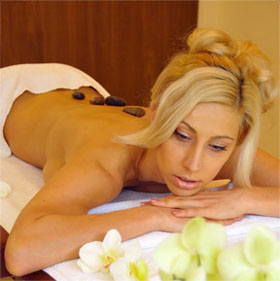 Treatments offer
We invite you to take advantage of a wide range of treatments, "Beauty and wellness," which foster superdeluxe-being, eliminate stress, therapeutic work and upiększająco. Manicurist, offer a full range of treatments for hands and feet.
Massages:
Classic massage full or partial

Increases the ability of muscles to work, improves their elasticity, prevents muscle cuts end in tears, increases muscle tone, stimulates the lymphatic system and blood circulation, increases the absorption of edema.

Therapeutic massage of the spine

Therapeutic effect on the joints of the spine with a high degree of efficiency, reduces pain and even reduce it, increases joint mobility and greatly reduces muscle tension.

Relaxing massage

Delicate massage oil based on the grape. Recommended for nervousness, strongly attenuates and calms, soothes

Slimming massage

Helps reduce body fat and cellulite, stimulates the muscles to work.

Hot stone massage

Stimulates blood circulation, affects the vital energy, supports the lymphatic system, relaxes, improves elasticity and firmness.
Complex SPA
Have a relaxing bath in our SPA complex, which includes: dry sauna with color therapy. Sauna session has toxin cleansing properties for the body, improves circulation and makes you immune to diseases. After a stay in the sauna usually takes a bath in cool water (we recommend our special shower experience.)
We also have a steam bath with aromatherapy. In contrast to the dry sauna, in mild steam bath's hot steam is especially healthy for respiratory diseases and rheumatic ailments. The moist heat steam bath is beneficial to the skin, it improves blood circulation, cleanses the body from toxins.
After the steam bath you can cool off in the special shower experience. Our complex also has a Jacuzzi with color therapy. Bathing in it slightly raises the body temperature, and (like cold), speeds up metabolism. High pressured air bubbles coming out of the blowers, will ensure an effective hydromassage, which improves blood circulation and relaxes the skin.
The entire SPA complex uses music therapy.
Color therapy helps remove depression, prevents allergies, inflammation, improves immunity. It soothes and improves sleep, regulates metabolism and cardiovascular work.
Special shower experience
Shower room with the so-called rain room - program-controlled sprinklers of varying intensity and water temperature assisted by color therapy and aromatherapy.
Equipped with three programs of action:
warm rain - from top panel falls a stream of warm water enriched with aroma of exotic fruits, while a light illuminates in red.
cold rain - from top panel falls on the person a large stream of cold rain that contains the scent of exotic fruits, at the same time lights illuminate green.
polar breeze - cold mist is released from the nozzle gently spraying the body, while a light illuminates in blue combined with the smell of mint..